---
SUMMER WEATHER SAFETY:
Keep Your Cool During Hot Weather!
Stay in an air-conditioned indoor location as much as you can.
Drink plenty of fluids, even if you don't feel thirsty.
Schedule outdoor activities carefully.
Take cool showers or baths to cool down.
Learn more here:  https://www.weather.gov/wrn/summer-safety, or https://www.ready.gov/heat.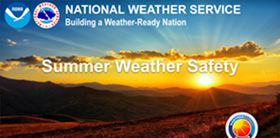 ---
PREPAREDNESS:
The New York State Division of Homeland Security and Emergency Services (DHSES) has unveiled a new, free online Citizens Preparedness Training course.  The 24-minute training offers New Yorkers a condensed version of what they would have learned during an in-person course.
Topics include how to develop a family emergency plan, how to prepare your family and home for a potential emergency such as fire, what to do in specific situations such as active shooter, and covers evacuation or sheltering-in-place due to a life-threatening event, and much more.   The training also discusses what to do when returning home after an emergency, including re-entry procedures, checking for and documenting damage safely, addressing emotional and other personal needs in the aftermath of a catastrophic event, and being wary of post-disaster scams.
For more information, visit https://on.ny.gov/3iiYdlV.
Additional Preparedness Checklists:
Generator Maintenance Checklist
https://www.bigrentz.com/blog/generator-maintenance-checklist

72 Hour Emergency Kit List
https://www.rent.com/blog/72-hour-kit-checklist/

Car Emergency Kit List
https://www.utires.com/articles/car-emergency-kit-list/

Important Legal Documents
https://www.justgreatlawyers.com/legal-documents-to-prepare-for-emergency-preparedness

Emergency Preparedness Checklist
https://www.apartmentguide.com/blog/emergency-preparedness-checklist/
---
TUNE IN:
Disaster and emergency information will broadcast from these local radio stations:
870AM WHCU

97.3FM WYXL

91.7FM WICB
If your TV is working, monitor a regional all-news channel, such as Spectrum News, or the Weather Channel. A weather radio will also provide accurate and current information.
National Weather Service in Binghamton
http://www.weather.gov/bgm/
---
---
Q & A: WHAT TYPES OF EMERGENCIES CAN HAPPEN IN TOMPKINS COUNTY?
 Flooding
 Winter Storms - Snow/Ice/Cold
 Power Outages
 Heat Emergencies
 Fires
 Chemical/Hazmat Accidents
 Wind Storms/Tornado
There are certain basic concepts of preparedness that apply to any type of situation:
---